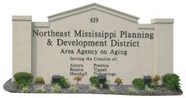 About NEMPDD
Please find below a listing of and description of the services available through NEMPDD. You may contact us for more information about a particular service.
Economic Development
NEMPDD partners with the Economic Development Administration and the Appalachian Regional Commission in all six of its counties and the Delta Regional Authority in the western half of its district for the purpose of promoting economic growth and development through public works projects. Overall goals of the programs include the following: promoting skills and knowledge necessary to compete in the world economy in the 21st century; assuring communities will have the physical infrastructure necessary for self-sustaining economic development and improved quality of life; developing access to financial and technical resources to help build dynamic and self-sustaining local economies; promoting access to affordable, quality health care; and organizing and mobilizing people and organizations to work together for sustained economic progress 스마트폰 유튜브 동영상 다운로드. Water and sewer facilities, access roads, fire protection, health facilities, and industrial parks are examples of projects developed through cooperative efforts with the private sector, local units of government, and other interested parties.
Community Development Block Grant
The Community Development Block Grant (CDBG) program was established to aid in the development of viable communities, a suitable living environment and expanded economic opportunities for local residents. All municipalities and counties in the NEMPDD service area are eligible for CDBG funding. Any funded activity must meet one of the three National Policy Objectives: to benefit low and moderate income persons, to aid in the prevention or elimination of slums or blight; or to meet other community development needs having a particular urgency because existing conditions pose a serious and immediate threat to the health and welfare of the community where other financial resources are not available to meet such needs 엑스컴 롱워 다운로드.
CDBG funds are often used to maximize project potential through matching funds. CDBG funds may be matched with local funds or those from other agencies such as the Appalachian Regional Commission, Tennessee Valley Authority, USDA-Rural Development, and the Economic Development Administration.
Funds are made available through the Economic Development and Public Facilities program components. The Economic Development program component assists units of local government in funding eligible infrastructure improvements to support a specific business or industry that wishes to expand or start up operations in the applicant's area. Public improvements such as providing water, sewer, or an access road are eligible.
Through the Public Facilities component, grants are available on a competitive basis for a variety of community development activities mr one day. The kinds of activities that are eligible for consideration through the Public Facilities program include: water and sewer construction or improvements, street construction or improvements, flood and drainage improvements, and renovation of public buildings.
Revolving Loan Program
The Revolving Loan Program (RLF) promotes business development by providing loans to qualified businesses and industries creating or retaining jobs in the NEMPDD area. As repayments are made, those funds are loaned back to other borrowers. The revolving funds are:
RLF-EDA – fixed asset, inventory, or working capital loans up to $200,000, which requires at least one job per $20,000 of financing ibm spss.
RLF-MS Minority Business Enterprise – fixed asset, inventory, and working capital loans up to $250,000 but no more than 50% of total project, to certified eligible minority/female owned businesses – administered by the MS Business Finance Corporation.
MS Small Business Assistance Loan Program – fixed asset, inventory, or working capital loans up to $250,000 per business. This is administered by the Mississippi Development Authority.
RLF-ARC – fixed asset, inventory, and working capital loans up to $200,000 or no more than 33% of total project cost and requires one job created or retained per $20,000 of financing 피파18 커리어모드 다운로드.
RLF-Intermediary Relending Program – not to exceed $150,000 or more than 75% of a total project. Standards require one job created or retained per $20,000 of IRP funds.
RLF-MS Minority Business Enterprise Micro Loan – fixed asset, inventory, and working capital loans up to $35,000, to certified eligible minority/female owned businesses administered by the MS Business Finance Corporation
Area Agency on Aging
NEMPDD Are Agency on Aging (AAA) is the focal point for services provided to senior citizens in the six county area. The purpose of the AAA is to provide a comprehensive and coordinated delivery system to older persons. The AAA has entered into contracts with Alcorn Human Resource Agency, North Mississippi Rural Legal Services, and Northeast Mississippi Community Services to provide services to include Case Management, Respite, Information and Referral, Outreach, Homemaker, Ombudsman, Home Delivered Meals, Congregate Meals, Senior Center, Transportation, Caregiver Assistance, Senior Employment, Adult Day Care, and Legal Services Download chrome extension videos. Direct services provided by the AAA include Preventive Health, Program Development/ Coordination, Mississippi Insurance Counseling Assistance Program, Administrative Compliance, and Elder Abuse Prevention.
The Elderly & Disabled Medicaid Waiver Program
The Elderly and Disabled Medicaid Waiver Program provides home and community-based services to individuals as an alternative to nursing home placement. Beneficiaries must be over twenty-one years of age, qualify for
Mississippi Medicaid and score at least a 50 on the Medicaid Long Term Care Pre-Admission Screening (PAS) instrument Alfafile Premium Download.
The Northeast Mississippi Planning and Development District provides the case management team which consist of one licensed social worker and one registered nurse who assess the beneficiaries and manage their case according to the Division of Medicaid approved Plan of Care. Services on the Plan of Care can include: Homemaker Services, Adult Day Services, Expanded Home Health Services, Home Delivered Meals, Escorted Transportation, Institutional Respite/ In- Home Respite, and Transition Assistance. This program is available statewide, but the Northeast PDD covers Alcorn, Benton, Marshall, Prentiss, Tippah and Tishomingo counties.
Computer Services
NEMPDD has assisted its client counties in automating the major functions of operations in the Chancery Court Clerk, Tax Assessor, and Tax Collector offices Cruise Family Download. Made possible initially by ARC funding, the Circuit Court Clerk, Justice Court Clerk, Purchasing Clerk, and some E-911 offices have also been added to this project. District assistance has greatly enhanced the quality and effectiveness of services provided to the citizens of Northeast Mississippi by the local governments.
Clearinghouse Coordination
NEMPDD serves as a regional clearinghouse for all federal programs in the six county area. Applicants for federal funds must notify the District of their intention to file application for such funds 모바일 배틀 그라운드 핵 다운로드. In its clearinghouse role, the District remains aware of most federal projects proposed throughout the six county area and works to prevent possible duplication of plans. Efforts are also made to ensure that proposed projects are in conformity with the Overall Economic Development Plan.
GIS – Geographical Information Systems
NEMPDD offers GIS services to government offices that can help visualize population segments with maps using census tract and block group information.
Census Information
Designated as a State Data Center Affiliate by the U.S. Bureau of the Census, the District is able to disseminate detailed census data on the six county service area Php large downloads. Member counties and citizens can use the data for demographic and economic analysis and other diverse functions.